Position Description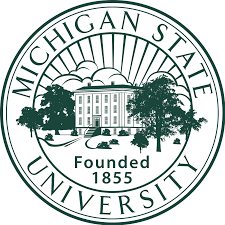 Assistant Professor of Dry Bean Breeding and Genetics
The Department of Plant, Soil and Microbial Sciences at Michigan State University is seeking qualified applicants for an Assistant Professor position.
POSITION: Assistant Professor of Dry Bean Breeding and Genetics
LOCATION: Department of Plant, Soil and Microbial Sciences, Michigan State University
CLOSING DATE: January 15, 2019 or until position is filled
APPOINTMENT: Annual
RESPONSIBILITIES: The Department of Plant, Soil and Microbial Sciences in the College of Agriculture and Natural Resources at Michigan State University invites applications for a 12-month, tenure track Assistant Professor position in dry bean breeding and genetics. The successful candidate will have research (85%) and teaching (15%) responsibilities, consistent with the missions of the appointment and will participate in the interdepartmental graduate program in Plant Breeding, Genetics and Biotechnology. The position will be available July 1, 2019.
Research responsibilities will include fundamental and applied research in the area of dry bean breeding and genetics. The major objective of the applied research is the development of improved varieties of all dry bean market classes. Current target traits of improvement of the breeding program include yield, disease resistance, canning quality, nitrogen use efficiency and abiotic stress resistance. Fundamental research will depend on the incumbent's training, expertise, and interest, and will focus in genomics; molecular, cellular, physiological or population genetics; genetics of disease resistance; or quantitative genetic theory. Publication of research results in major scientific journals will be required. Teaching expectations include graduate courses in plant genetics. Graduate student mentoring is also required in this position. The incumbent will be required to obtain competitive research support from state and federal programs, as well as grants from the growers and processing industries.
BACKGROUND: Michigan State University is the Pioneer Land Grant University and is a national leader in agricultural research. MSU has a vibrant plant science community comprising of more than 150 faculty members conducting a wide range of plant research spanning the lab-to-field continuum in both natural and agricultural ecosystems. PSM is a multi-disciplinary department with faculty appointed in the College of Agriculture and Natural Resources (CANR; http://www.canr.msu.edu/). Opportunities exist to interact with members of the Plant Resilience Institute, and other interdepartmental programs including Plant Breeding, Genetics and Biotechnology, Genetics, and Molecular Plant Sciences. Appointed faculty will also be affiliated with MSU AgBioResearch (http://agbioresearch.msu.edu/).
Michigan is the second largest producer of dry beans in the United States and the largest producer of black beans and small red beans. Therefore, the incumbent will be expected to maintain close working relationships with the dry bean growers and processors, as well as develop and maintain a broad research program with both state, national, and international foci. To support these activities, numerous collaborative opportunities at MSU in the areas of genetics, agronomy, plant pathology, and food science are available.
QUALIFICATIONS: A PhD in plant breeding and genetics or related plant science disciplines is required. Postdoctoral experience is preferred. Experience with legume crops is desirable but not required. Applicants should have a strong record of accomplishments and publications. Further, evidence of past or ongoing successful collaborations is desired, and evidence of multidisciplinary collaborations will be viewed favorably.
APPLICATIONS:
To apply, applicants should provide;
(1) cover letter of application
(2) curriculum vitae
(3) a written statement (limited to 2 pages) that outlines your research vision as it relates to the position.
Please include a discussion of both short (five year) and long-term (15 year or more) research directions and goals.
(4) a description (1 page) of teaching philosophy and goals
(5) a description (1 page) of your perspectives and experiences in regard to diversity and inclusion, which could include past and future contributions and approaches used to create an inclusive research and classroom environment, experience in mentoring diverse students, and/or an explanation of how you will contribute to our goals of inclusive excellence
(6) names and contact information for three references
Complete application packages are to be submitted through the MSU Human Resources site
at https://careers.msu.edu/ (posting #545415)

Review of applicants will begin January 15, 2019 and will continue until suitable candidates are identified.
Questions can be directed to the Search Chair Dr. Ray Hammerschmidt at hammers1@msu.edu
---
The College of Agriculture and Natural Resources (CANR) at Michigan State University is committed to achieving excellence by creating and sustaining an accessible and inclusive culture that values cultural and academic diversity. We are an equal opportunity / affirmative action employer. The CANR is particularly interested in candidates of all backgrounds who are committed to the principle that academic excellence is achieved through open access and proactive inclusion.
MSU enjoys a park-like campus with outlying research facilities and natural areas. The campus is located in the city of East Lansing, adjacent to the capital city of Lansing. The Lansing metropolitan area has a diverse population of approximately 450,000. Local communities have excellent school systems and place a high value on education. The University is proactive about its obligations under the Americans with Disabilities Act (ADA), and provides individual accessibility plans to students and employees with disabilities. Michigan State University is also proactive in exploring opportunities for employment for dual career families, both inside and outside the University, and respects all family forms. Information about MSU's dual career support can be found at http://miwin.msu.edu/.
Information about WorkLife at MSU can be found at http://worklife.msu.edu/.