MANRRS & SMITHFIELD FOODS: Broadening Horizons & Changing the Narrative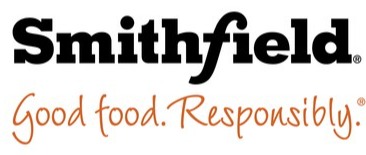 ATLANTA, GA, April 22, 2022-
During the MANRRS 36th Annual Training Conference and Career Expo, held in Jacksonville, Florida, March 23-26, 2023, MANRRS announced the first recipients of the Junior MANRRS Smithfield Scholarship. Ten high school seniors from across the country will be provided a $5,000 scholarship toward their tuition to attend a Historically Black College & University and major in an agriculture-related discipline. The following students were selected as recipients:
Top Row: (Mark Evans - Fort Valley State University, Naylah Maple - North Carolina A&T University, Jaelynne Murray - Alabama A&M University, Jaylen Williams - Tuskegee University, Taylor Arnold - Fort Valley State University) Bottom Row: (Keonna Webb - Texas Southern University, Aprecia Lane - University of Maryland- Eastern Shore, Breyla Alston - North Carolina A&T University, Anniyah Holcomb - Tennessee State University, Patrice Setzer - Fort Valley State University)
Smithfield Foods sponsored the High School Symposium during the 36th Annual Training Conference and Career Expo. During this event, over 70 high school students learned about the intricate field of meat science through eye-opening presentations and a hands-on food demonstration workshop.
The purpose of Junior MANRRS Smithfield Foods High School Symposium is to empower high school students to enhance their potential, maximize their performance, and achieve their ultimate goals in the following areas:
Design a vision for the life they want to live;

Perform academically and develop post-secondary & preliminary career plans;

Develop authentic leadership skills;

Improve communication skills and interpersonal skills;

Obtain career-readiness skills for success after graduation; and

Contribute to the betterment of their school and community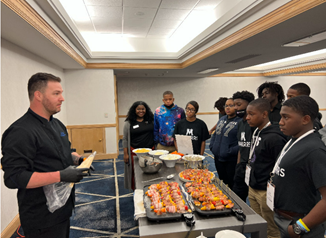 Pictured: (Jessica Jones, Smithfield Foods and Junior MANRRS students watching a demonstration during the High School Symposium at the 36th Annual MANRRS National Conference & Career Fair)
Steve Evans, director of community development for Smithfield Foods, congratulated the students at the event and spoke about the importance of diversity and representation in agriculture
: "Never shy away from the authenticity of who you are, where you come from and how you look because representation matters. Whether you choose to cultivate the soils on a farm or solve for world hunger in a boardroom – your unique voices, talents, intellect, enthusiasm and energy is very necessary and needed in agriculture."
About MANRRS
MANRRS is a non-profit organization promoting academic and professional advancement by empowering minorities in agriculture, natural resources, and related sciences. MANRRS has a reach of over 10,000 students and professionals within six Regions, and 60 Collegiate Chapters across 39 states, and Puerto Rico. For more information, visit www.manrrs.org, and connect with us on Facebook, Twitter, LinkedIn and Instagram.

About Smithfield Foods, Inc.
Headquartered in Smithfield, Va. since 1936,
Smithfield Foods, Inc.
is an American food company with agricultural roots and a global reach. With more than 60,000 jobs globally, we are dedicated to producing "Good food. Responsibly®" and serve as one of the world's leading vertically integrated protein companies. We have pioneered sustainability standards for more than two decades, including our industry-leading commitments to become carbon negative in our U.S. company-owned operations and reduce GHG emissions 30 percent across our entire U.S. value chain by 2030. We believe in the power of protein to end food insecurity and have donated hundreds of millions of food servings to our communities. Smithfield boasts a portfolio of high-quality iconic brands, such as Smithfield®, Eckrich® and Nathan's Famous®, among many others. For more information, visit
www.smithfieldfoods.com
, and connect with us on
Facebook
,
Twitter
,
LinkedIn
and
Instagram
.
# # #
MANRRS
Tags: