Position Title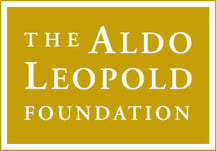 Marketing and Communications Associate
The Aldo Leopold Foundation fosters care for people, land and communities through the legacy of Aldo Leopold. Our organization sits importantly at the intersection of the past, present, and future. We interpret and care for Aldo Leopold's Shack and Farm, a National Historic Landmark, share Leopold's vision of a land ethic and A Sand County Almanac widely, and lead many education and conservation initiatives relevant for the 21st Century. Working out of the Leopold Center, among the greenest buildings in the world, we regularly convene our country's conservation leaders, thinkers, and doers to improve how we care for land and each other.
The Marketing and Communications Associate is responsible for developing content to engage and grow the foundation's social communities. Work will require outstanding visual and written communication to accomplish the intended impact and to reflect the brand and mission of the Aldo Leopold Foundation. The Marketing and Communications Associate will support the work of the Marketing and Communications Manager to grow awareness and support for the foundation's mission and work, increase participation in the organization's programs with new and diverse audiences, and increase revenue.
The Aldo Leopold Foundation seeks a candidate with a degree in graphic design, marketing, and/or communications and a strong interest in conservation and the environment. The ideal candidate will have excellent communication skills, the ability to work independently and to multitask, demonstrated leadership capabilities, and a proclivity for focusing on strategic outcomes. Applicants should be creative, professional, and eager to learn.
Pay range: $35,000-$40,000 annually depending on education and/or years of related work experience, with benefits including health, dental, vision, life/AD&D, and short-term disability insurance, SimpleIRA retirement plan (when eligible), Health Savings Account, and paid time off (vacation, floating holidays, and sick leave).
The application deadline is Sunday,

February 6, 2022.