Position Title: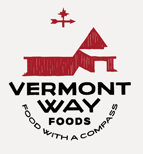 Director of Brand and Business Development
Job Description:
Vermont is known for open, lush farmland and great food crafted from this land. Vermont's fresh foods are award winning and sought out by food lovers and visitors to the Green Mountain State. To help ensure the success of hardworking farmers and talented makers of Vermont food well into the future,
we need to build demand and connect consumers throughout the northeast to Vermont's great foods. The Vermont Food Hub Collaborative, L3C,* is seeking a Director of Brand and Business
Development to drive this demand creation through strategic leadership, sales savvy and marketing know how. If you have these talents, a passion for great food and for doing right by farmers and food makers, we'd love to hear from you.
The Director of Brand and Business Development will successfully introduce Vermont Way Foods to customers and consumers, developing a clear sales strategy to drive incremental market growth that supports the brand mission. Concurrently, consumer demand will be built by sharing the rich brand story of Vermont Way Foods. Strategic leadership will be needed to set a 3-year business plan and a vision for the marketing, sales and operation teams to match demand needs. Clear proactive communication and reporting to the Food Hubs will be essential as policy is shaped, budgeting needs anticipated, and market intelligence is shared back from the market to help farmers fine tune their offerings.
responsibilities:
A. Brand and Marketing
1. Launch Vermont Way Foods brand in target markets in the northeast.
2. Mold and shape the power of the brand, bringing it to life by sharing it and the
Collaborative's values to connect with our target audience.
3. Plan and oversee all creative development, promotional activities and social marketing.
4. Lead a team, including contractors, to shape and execute a robust digital marketing
campaign.
5. Maintain consistent voice, image, and brand through all marketing materials.
6. Continually refine, augment, and achieve brand stickiness.

B. Market and Business Development
1. In partnership with Collaborative members, establish goals and procedures for member
participation in market penetration.
2. Maintain and evolve an innovative product portfolio management strategy.
3. Plan product positioning via market intelligence.
4. Develop and maintain higher-level, strategic, customer relationships.
5. Liaise with collaborative members to transition prospective key accounts from business
development to order management.
6. Monitor market data, customer feedback, and observations on new products in the market
and recommend ways to refine product offerings.

C. Operational and Financial
1. Develop and manage budget and multi-year financial forecasts.
2. Manage marketing metrics and sales goals.
3. Use data to identify key channels, competitive landscape, target markets and prospective
key accounts.
4. In partnership with hub management, contribute to the direction of ongoing improvement of
operational systems (order taking, sales, warehousing, etc.) that enable the efficient flow of
products from farms to hubs to customers.
5. Prepare reports, and otherwise support members through communications by both
informing and consulting with farmers, funders, and other stakeholders.
Qualifications
Please note: In addition to the qualifications outlined below, the hiring team will consider candidates
with comparable knowledge and skills acquired through another combination of education and
experience.

Education
● Bachelor's degree or significant, relevant experience (especially in combination with
applicable education and training).
Knowledge and Experience
● Ten or more years of marketing and/or sales experience with customers of all sizes,
including five in management, preferably in outside sales and/or local food, beverage or
other consumer products.
● Has led or participated in the roll out of a branded marketing consumer campaign for retail
products.
● Experience thriving in a young, growing company (minimum of $3-5MM in sales) requiring
effective cross-functional management within and between multiple stakeholders.
● Proven success securing and managing major accounts (institutional, chain and other
multi-location customers, including third-party distributors), and understanding of day-today customer care and inside sales needs.
● Basic understanding of the food system, including producer seasonality and capacity.
● An understanding of socially responsible business practices.
● Existing relationships with relevant major accounts in the northeast preferred.
● An appreciation for a sense of place required. Vermont-specific experience or knowledge
preferred.
skills:
● Real Food enthusiasm, and an affection and appreciation for the important role of hardworking farmers and producers.
● Superior sales, negotiation, analytical and organizational skills.
● Able to analyze and translate market and customer info into business development
opportunities.
● Skilled at proactive, respectful, clear, and accurate communications, both written and
verbal, including communicating sales performance and business development information.
● Excellent relationship-building, collaboration, and customer service skills.
● Solid business acumen, including budgetary and strategic/business planning skills.
● Strong organizational skills and natural proclivity for keeping detailed and accurate records.
● Able to creatively adapt to changes in evolving businesses and jump in where needed to
optimize operations.
● General technical skills with common workplace tools, such as: G-Suite, Excel, Slack,
Asana, and customer relationship management software (CRM).
---
The Vermont Food Hub Collaborative, L3C, (dba Vermont Way Foods™) is an equal opportunity employer that values diversity of experience and perspective to enrich our work. All qualified applicants will be considered without regard to race, color, religion, age, sex, gender identity, sexual orientation, citizenship, ancestry, place of birth, national origin, disability, genetic information, pregnancy or pregnancy-related condition, age, crime victim status, health coverage status, HIV status, military or veteran status, or any other protected classification, in accordance with applicable federal, state, and local laws.