Position Title
Project Manager - Agriculture and Foodplain Resilience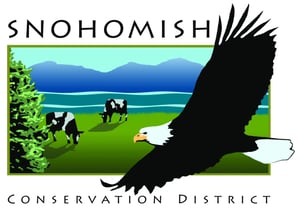 Job Description
The Snohomish Conservation District is looking for someone with strong project management skills and a background in both habitat restoration and agricultural viability to serve as a Project Manager for our organization. The Project Manager will develop and manage implementation of complex multi- benefit projects in the floodplains of the Snohomish and Stillaguamish Rivers. We are at an exciting time, having just completed the Agriculture Resilience Plan for Snohomish County, where we have community support to work with our partners to create floodplain projects that advance salmon recovery, flood protection, and agricultural protection and viability. The Project Manager will lead implementation of projects and priorities identified by the farming community in the Agriculture Resilience Plan as well as represent those needs through participation in the Sustainable Lands Strategy - Integration Team. The Project Manager will also lead priority projects that advance salmon recovery through a collaborative effort with the farming community. We hope to find a Project Manager with skills in partnership building and collaborative engagement who is passionate about natural resource protection and agricultural viability.
---
This position will be hired at the Project Manager or Senior Project Manager level depending on qualifications and will report to the Habitat Restoration and Floodplain Management Program Director.
About the Snohomish Conservation District:
One of 45 Conservation Districts in the State of Washington, the Snohomish Conservation District is a leader among peers with robust agricultural resilience, habitat restoration, urban stormwater, farm planning, youth education, and community engagement programs. We take the mission of the District to heart - "work cooperatively with others to promote and encourage conservation and responsible use of natural resources" - as we implement successful and innovative approaches to getting real work done on-the-ground.
We are a political subdivision of state government with no regulatory authority. We have been working with farmers, city residents, rural and suburban landowners on a collaborative and voluntary basis since 1941. Our service area includes most of Snohomish County and Camano Island. We operate with a diverse staff ranging from engineers, technical assistance providers, project managers, two field crews, outreach specialists, and administrative staff.
Primary Job Responsibilities:
The Project Manager will:

● Manage all aspects of multi-benefit projects that improve agricultural viability (flood protection, drainage improvements, and climate change resilience) and restore habitat (floodplain reconnections and barrier removals).
● Complete permitting and oversee project design and construction.
● Engage the farming community in landscape-scale project scoping and design.
● Work with the Program Director to secure project and program funding through grant writing
and partnership building.
● Oversee and manage a Steering Committee of farmers as they transition their role from Ag
Resilience Plan development into plan implementation.
● Represent the needs of the agricultural community as identified in the Ag Resilience Plan at
the Sustainable Lands Strategy - Integration Team, a collaborative stakeholder process
formed to develop multi-benefit project packages in the floodplain.
● As a member of the Habitat Restoration and Floodplain Management team, collaborate with
other team members on watershed-scale prioritization efforts and project implementation.
● Promote strong integration with the Conservation District's Agriculture Team (Resource/Farm
Planners) to implement aspects of the Ag Resilience Plan (e.g. soil building and drought resilience practices, farmland protection, regulatory efficiencies, access to irrigation water, and climate change education).
● Promote strong integration with the Conservation District's Communications Team to provide opportunities for the farming community to learn about the predicted climate impacts to agricultural viability and share progress of project activities.
● Manage grants to include funding procurement, staff leadership, partner engagement, reporting, deliverable implementation, and budget management.
● Promote the integrated nature of all District work, in particular the intersection of habitat and agriculture project work.
● Engage in regional efforts to promote the integrated nature of floodplain work and present at local meetings and conferences.
● Provide technical assistance to landowners about natural resources on their property.
Job Qualifications/Desired Skills:
Required knowledge, skills, and abilities
A bachelor's degree in natural resources or a related field, proven project management and community engagement abilities, and five years of professional experience working in natural resources. Additional qualifying experience may substitute year-for-year for the education requirement.

● Understanding of natural resource priorities as they relate to salmon recovery, water quality, agriculture viability, and climate resilience.
● Understanding of the challenges and needs of the local agricultural community.
● Minimum of five years experience managing natural resource projects to include permitting
and oversight of design and implementation.
● Strong written and organizational skills with five years experience writing and managing grants and managing project budgets.
● Strong communication skills and a proven record of successfully engaging with the agricultural community to complete projects.
● Strong public speaking skills with the ability to effectively present to large audiences and garner support for programs.
● Skills in strategically managing large and complex projects as well as programs to determine next steps and pro-actively move things forward.
● Experience effectively bringing diverse partners together to develop multi-benefit solutions to challenges.
● Knowledge and ability in conflict management.
● Knowledge of local, state and federal ordinances and regulations.
● Knowledge of local, state and federal District partners.
● Evidence of continued learning to build skill set summarized above.
Preferred knowledge, skills and abilities
● Master's degree in natural resources
● 7 years experience in project management
Physical Requirements and Working Conditions

Working conditions may include office and outdoor environments, frequent travel to a variety of locations to conduct work and may include exposure to typical hazards encountered at such work sites. Frequent jobs needing finger dexterity, fine manipulation, and must be able to use office equipment and computer software. This is a full-time position consisting of 40 hours/week (negotiable). Position will require some work on weekends or after regularly scheduled work hours.
Visit https://snohomishcd.org/employment.
Application must include: Cover letter, resume, and at least three (3) professional references (references can be provided at time of interview). Emailed PDF applications preferred.
Applications will be open until position is filled. However, priority will be given to applications received prior to February 9, 2020.
Apply to: Cindy Dittbrenner; 425-377-7005; cindy@snohomishcd.org