MANRRS, NASDA and the NASDA Foundation Sign Historic MOU
Posted on August 20, 2020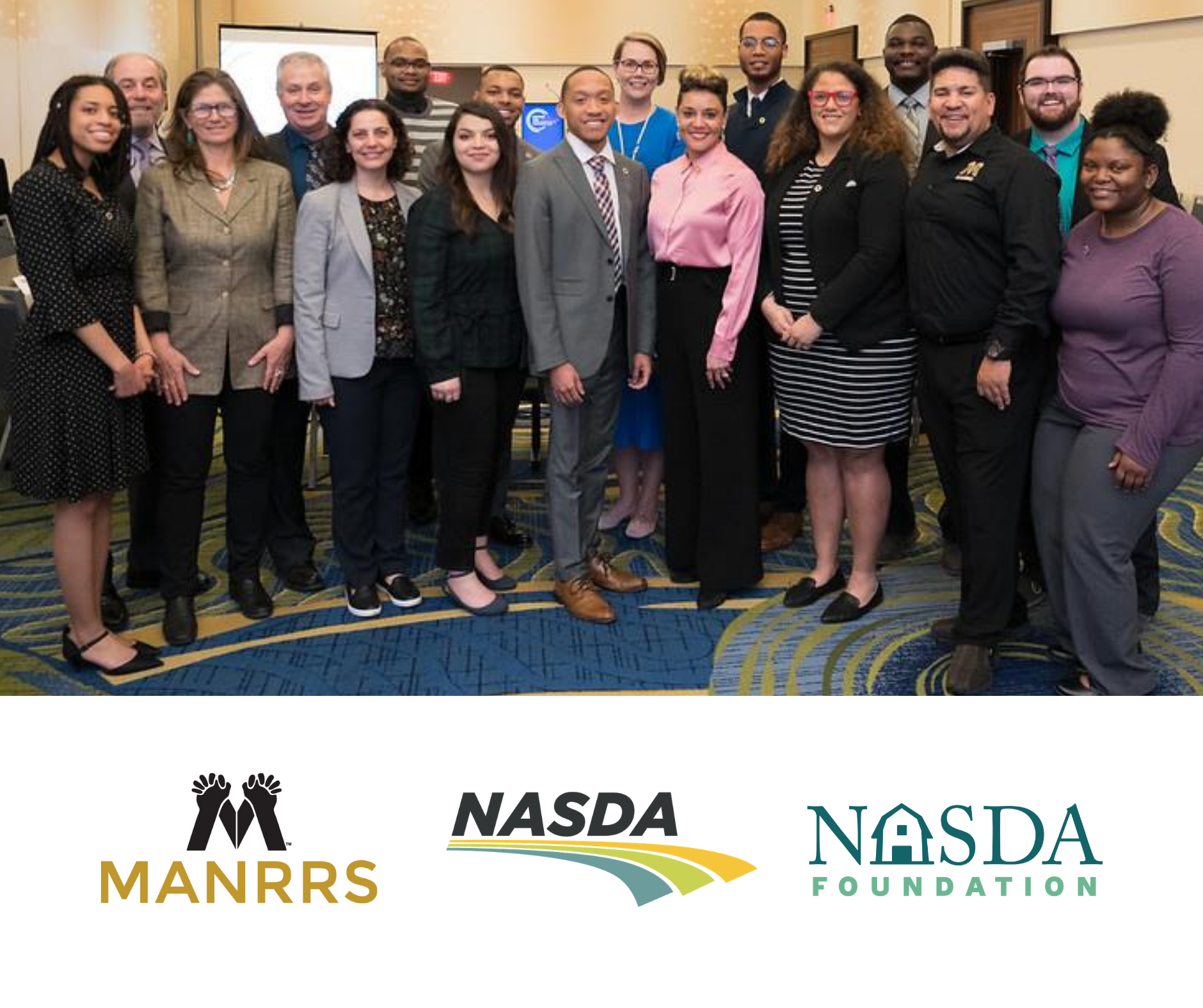 MANRRS, NASDA and the NASDA Foundation sign historic MOU to welcome more minority students into agricultural policy careers
Atlanta, GA —August 20, 2020, the National Society for Minorities in Agriculture, Natural Resources, and Related Sciences (MANRRS), National Association of State Departments of Agriculture and the NASDA Foundation signed a memorandum of understanding, embarking on a five-year partnership to grow diversity in agricultural government affairs and agriculture industry leadership.

The MOU details plans to increase minority college students' exposure to employment, educational and business opportunities through state departments of agriculture. The partnership will build on the MANRRS-NASDA Foundation Agriculture Policy Summit which was piloted with 10 MANRRS students at the 2020 NASDA Winter Policy Conference in Washington, D.C. last February. In addition, MANRRS will advise NASDA staff and members on how to seek and advance diversity in agriculture.

The MOU acts on NASDA's commitment to racial justice by elevating diverse voices and creating opportunities for NASDA to "listen and learn."

NASDA, NASDA Foundation and MANNRS leadership expressed their enthusiasm for the partnership in the following quotes:


"We're taking action to address racial justice in agriculture, and that starts with recognizing and recruiting talented young leaders like MANRRS students. We want minority students to know they're valued at state departments of agriculture, and that their perspective is needed to shape agriculture and food policy."
- NASDA CEO Dr. Barb Glenn said


"We are excited to learn from the leaders of MANRRS as they help advise NASDA and NASDA Foundation staff and our members on how to raise up diverse perspectives in agriculture."
- NASDA Foundation Executive Director Lisa Benson

"This partnership will help us change the face of agriculture, natural resources, and related sciences by connecting the leaders of state departments of agriculture to the incredibly talented and diverse pool of MANRRS students ready to start new careers in the industry."
- MANRRS COO Ebony Webber


"MANRRS promotes academic and professional development of minority students in agriculture, natural resources, and related sciences. Partnering with NASDA and the NASDA Foundation will unlock incredible opportunities for our students professionally and academically."
- MANRRS National President Dr. Antomia Farrell




NASDA is a nonpartisan, nonprofit association which represents the elected and appointed commissioners, secretaries, and directors of the departments of agriculture in all fifty states and four U.S. territories. Established in 1916, NASDA grows and enhances agriculture by forging partnerships and creating consensus to achieve sound policy outcomes between state departments of agriculture, the federal government, and stakeholders. Learn more about NASDA at NASDA.org and register for the upcoming virtual 2020 NASDA Annual Meeting at nasda.org/2020.


MANRRS is a national, non-profit organization which welcomes student and professional membership of people of all racial, cultural, and ethnic backgrounds who support the objectives of diverse and inclusive participation and achievement of minorities in agriculture, natural resources, and related science careers. The National Society of MANRRS consists of more than 60 chapters located at various colleges and universities throughout the United States. Individual chapter activities, regional events, and the annual national conference are designed to develop partnerships between students in agriculture, natural resources, and professionals from academic institutions, government agencies, and private industry. MANRRS establishes partnerships by promoting professional development, networking, and career placement in a nurturing environment. Learn more about MANRRS at www.manrrs.org.


NASDA Foundation is the only educational and research organization that directly serves state departments of agriculture in all 50 states and four U.S. territories. The Foundation focuses on education, outreach and research that galvanize the agricultural industry. NASDA Foundation is a 501(c)(3) nonprofit organization. The mission of the NASDA Foundation is to advance agriculture to shape a changing world. We carry out this mission by working with state departments of agriculture on regional and national programs that 1) Connects farmers to new markets, 2) Inspires change across the supply chain, and 3) Empowers diverse farmers & agricultural leaders to reach their dreams.

CONTACTS:

Sarah Grace Fowler, Manager, Communications,NASDA
sarah.fowler@nasda.org

Ebony Webber, Chief Operating Officer, MANRRS
Ebony.Webber@manrrs.org