MANRRS: Advisor of the Year Award Renamed
Posted on October 25, 2021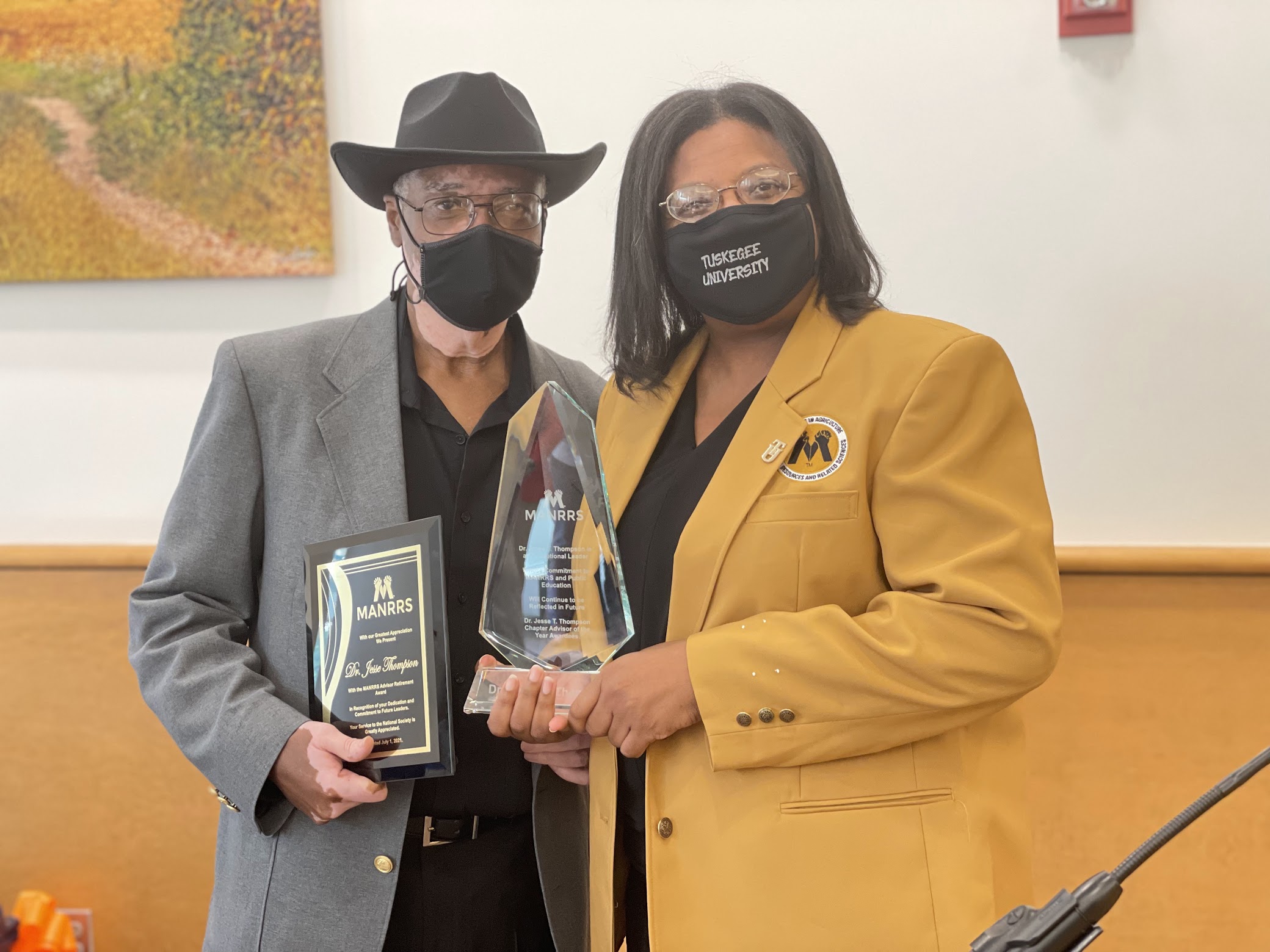 The National Society of Minorities in Agriculture, Natural Resources and Related Sciences announces the newly named Jesse C. Thompson Advisor of the Year Award
Pictured: Dr. Thompson being presented with awards by
MANRRS National President, Dr. Olga Bolden-Tiller
For Immediate Release Atlanta, GA, October 25, 2021
"As an advisor, you must see the potential in each of your student members as a future leader
and then help them to recognize these attributes and develop the skills of leadership. Our
success is due to a partnership and relationship with our students."
– Dr. Thompson


This award is presented annually to a professional MANRRS advisor who has shown evidence of
noteworthy contributions to their local and national MANRRS community through professional
development, career training and leadership development of their members. Awardees are
nominated by current and previous mentees.


The renaming of this award was announced by National MANRRS President, Dr. Olga Bolden-
Tiller on October 1, 2021 during the retirement ceremony for Dr. Thompson, hosted by the
University of Illinois – Urbana Champaign.
"Though I never had the opportunity to be directly mentored by Dr. Thompson as a student,
being a beneficiary of his selfless mentoring through my association with MANRRS at the
national level as an agricultural professional was tremendous. It
was indeed a pleasure to
represent MANRRS at Dr. Thompson's retirement event and announce the renaming of this
award in his honor."
– Dr. Olga Bolden-Tiller
Nominations for the 2022 Jesse C. Thompson Advisor of the Year Award will open in January 2022
and close on February 15, 2022. Additional details will be available on the National MANRRS website.
MANRRS is a national leadership organization promoting academic and professional advancement by empowering minorities in agriculture, natural resources, and related sciences. MANRRS has a reach of over 8,000 students and professionals within six Regions, and 65 Collegiate Chapters across 38 states and Puerto Rico. MANRRS focuses on developing future leaders in the agricultural sector through training and providing employers with a highly skilled, diverse workforce that includes individuals from traditionally underrepresented and underserved groups.
Tags: