Alice Bertholin Rice Joins MANRRS Advisory Board
Posted on August 22, 2022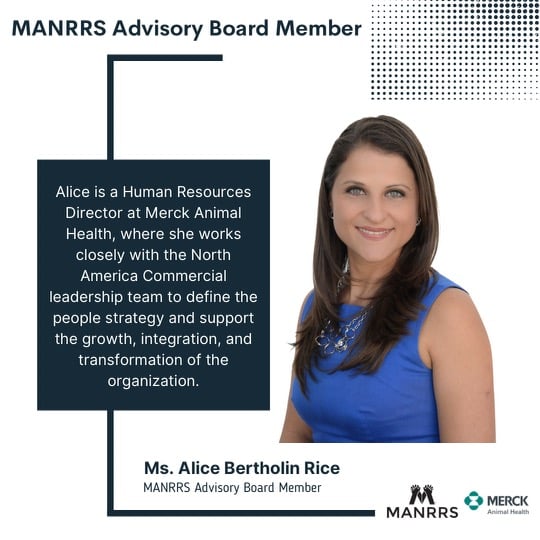 For Immediate Release
August 22, 2022
Atlanta, GA - Alice Bertholin Rice joins MANRRS Advisory Board, succeeding Margan Mulvaney who is retiring this, Summer. Alice is a Human Resources Director at Merck Animal Health, where she works closely with the North America Commercial leadership team to define the people strategy and support the growth, integration, and transformation of the organization. Alice has a diverse background in the Human Resources field including experience with early career development programs, employer branding, Diversity, Equity, and Inclusion.

Prior to joining Merck, Alice spent 6 years at Mondelēz International, a global consumer goods company, where she held HR leadership positions as a Business Partner as well as in the areas of Talent Management, Performance Management, Learning and Development, and Employee Relations. She led several strategic projects, including an international assignment where she led the migration of
employee relations activities for the Americas into a newly established Regional Service Center. She also
served as the Global Employee Experience Lead, where she led the development of an integrated employee experience strategy to guide employee career development and engagement.

Alice's previous roles include other multinationals such as Reckitt, a global leader in healthcare and consumer goods, and Ogilvy & Mather, a global marketing communications firm. Alice has international experience living and working in the United States, Latin America and Europe; she is fluent in four languages.
Alice earned an M.A. from New York University, Steinhardt School of Culture, Education & Human Development and a B.A. from Mount Holyoke College.
Please join us in welcoming Alice Bertholin Rice
to the MANRRS Advisory Board!
# # #
MANRRS
Tags: