MANRRS Welcomes Jr. MANRRS Coordinator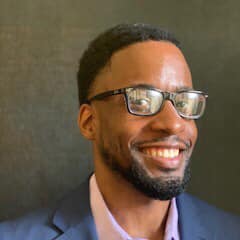 Ian Smith, Jr. MANRRS Coordinator
Monday, May 24, 2021

– Ian Smith has joined the MANRRS staff as the National Jr. MANRRS Coordinator. This position is funded through a partnership grant from
Smithfield Foods
.
Ian started his MANRRS journey while pursuing a bachelor's degree in Entomology at Purdue University in 2006. After graduating in 2007, he then went on to obtain a Masters in Entomology at Kansas State University and graduated in 2010.
Ian has nearly 10 years of experience as an educator and 16 years of experience working with middle and high school students in a mentor compacity. He founded and ran his own youth nonprofit organization, "The Ian Smith Foundation" with a mission to help youth obtain higher education. With his extensive background, Ian hopes to foster relationships between MANRRS and prospective Jr. MANRRS chapters.
"Knowledge is the navigator of life, it enables you to carefully and strategically make decisions where you can foreshadow potential barriers, which will ultimately give you an advantage." - Ian Smtih
"We are delighted to welcome Ian Smith to the MANRRS team and are honored to support the funding of this new position.
Smithfield

is passionate about creating equity in education for our students and know that his contributions at MANRRS will help ensure a more inclusive agricultural future." - Schwanzetta Williams, Vice President of Talent Acquisition, Diversity and Inclusion for

Smithfield

Foods
Please welcome Ian to the MANRRS Team!
About MANRRS:
MANRRS is a non-profit organization promoting academic and professional advancement by empowering minorities in agriculture, natural resources, and related sciences. MANRRS has a reach of over 8,000 students and professionals within six Regions, and 55 Collegiate Chapters across 38 states, and Puerto Rico.
About Smithfield Foods, Inc:
Headquartered in Smithfield, Va. since 1936, Smithfield Foods, Inc. is an American food company with agricultural roots and a global reach. Our 43,000 U.S. team members and 16,000 European employees are dedicated to producing "Good food. Responsibly.®" and have made us one of the world's leading vertically integrated protein companies. We have pioneered sustainability standards for more than two decades, including many industry firsts, such as our ambitious commitment to cut our carbon impact by 25 percent by 2025. We believe in the power of protein to end food insecurity and have donated hundreds of millions of food servings to our neighbors in need. Smithfield boasts a portfolio of high-quality iconic brands, such as Smithfield®, Eckrich® and Nathan's Famous®, among many others. For more information, visit
www.smithfieldfoods.com
, and connect with us on
Facebook
,
Twitter
,
LinkedIn
and
Instagram
.